HISTORY
Myanmar Medical Association was founded in 1949. It is the professional organization of non-political and non profit, independent medical professional organization registered under Home Ministry. It stands for professional integrity and loyalty. It also helps and serves our people to the upmost. Over 20000 membership are involved in academic and technical activities with the Association. Myanmar medical Association has democratically elected Executive Committee with 43 specialty societies and over 80 state and Regional and Townships medical association branches.
At 1949, Dr. Shwe Thwin organized the doctors in Yangon to develop the proper setup of Burma Medical Association. On 12th March 1949, at 7-10 p.m., General Body Meeting was done with a total 37 doctors at Muslim Free Dispensary, Barr Street, Yangon. At 13th May 1949, constitution was smoothed out by committee and approved. Meeting on 9th December 1949, BMA logo was designed with a shield, two snakes and a lion on top. We got recent premises of Yangon MMA on 11th August 1950. Annual General Meeting was held on 27th January 1951 and next election of EC was done.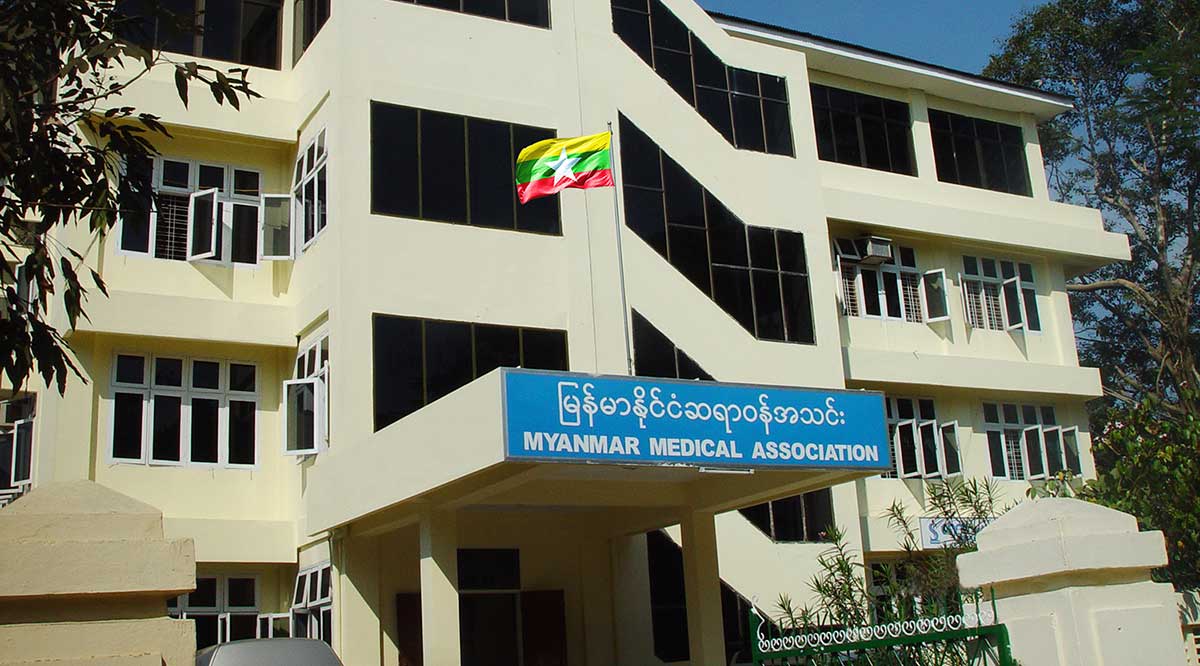 PAST PRESIDENTS OF THE MYANMAR MEDICAL ASSOCIATION
Presidents (1949 to 2017 )
Dr. U Shwe Thwin (Founder of MMA) , First founder and first secretary of MMA.
Dr. Colonel Ba Thaw,
First Myanmar Doctor of Colonel after World War II.
Dr. U Ba Than Chein
Dr. U Maung Gale
Dr. U Ba Than
Dr. U Min Sein
Dr. Yin May
Dr. U Maung Maung Gyi
Dr. T. Chan Taik
Dr. Sein Maung
Dr. U Shwe Zan
Dr. U Ko Gyi
Dr. U Ba Than (Setkya)
Dr. U Khin Maung Win
Dr. U E
Dr. U San Lwin
Dr. Colonel Maung Maung Than
Dr. U Pe Kyin
Dr. U Aung Thein
Dr. U Kyaw Maung
Dr. Daw Hla Kyi
Dr. U Maung Maung Aye
Dr. U Maung Maung Taik
Dr. U Shwe Tin
Dr. Daw Myat Kyi Than
Dr. U Hla Myint
Dr. U Khin Maung Nyein
Dr. U Tin U
Dr. U Thet Hta Way
Dr. Daw Kyu Kyu Swe
Dr. U Ye Myint (Cardiac Surgeon)
Dr. U Myo Myint (Ortho Surgeon)
Dr. U Kyaw Myint Naing (Ortho Surgeon)
Dr. U Rai Mra