PRESIDENT'S MESSAGE
Message from the President of Myanmar Medical Association
Dear colleagues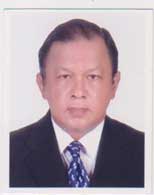 Myanmar Medical Association is a long standing institution, the only organization for doctors in Myanmar. Over the years it has maintained its reputation as a professional organization of the highest standard. Myanmar Medical Association has been traditionally active in maintaining the high standards of the medical profession. MMA is also a member of esteemed international medical organizations like World Medical Association, Medical Associations of ASEAN and Confederation of Medical Associations of Asia and Oceania. The many medical conferences that are hosted by the MMA and its branches every year have now become international with very high rates of attendance. MMA also conducts many CME activities including the very popular CME course in family medicine after which certificates are issued to successful candidates. MMA also carries out many social activities including the annual paying of respect to senior doctors and sports activities for its members. Nowadays MMA is also involved in implementing many public health projects which have earned praise for the efficiency with which they are carried out.
The role of MMA has expanded over the years. In the changing times MMA is now invited to meetings on important health issues by the Ministry of Health and other agencies. MMA now has a bigger role to play for our medical profession and will need to have a unified voice and would need to represent the interest of its members. For this MMA will need to have bigger participation and representation from its members – all doctors. All doctors are invited to join the MMA and take part in its activities. MMA will be how you structure it, how you shape it in the 21st century for MMA is you organization.
Professor Rai Mra
MBBS, MRCP(UK), FRCP(Edin)
Dr Rai Mra graduated from the Institute of Medicine (1) Yangon in 1973. After his first posting at the Pathology Department of IM (1) he was selected for training in internal medicine at the Yangon General Hospital and studied in the United Kingdom in 1984 for 2 years when he obtained his MRCP. He also trained in HIV medicine at the University of Paris XII in 1994. He was the first appointed haematologist in Myanmar and founded the Department of Clinical Haematology at the Yangon General Hospital in 1994. Later on he became Professor and started the Doctor of Medical Science in Haematology course at the University of Medicine (1). He also founded the Myanmar Society of Haematology of the Myanmar Medical Association in 2003 and was its president for four years. Professor Rai Mra also has a special interest in HIV medicine. He started the HIV medicine unit at the Infectious Diseases Hospital, Yangon in 1991 and was also involved with the National AIDS Programme for many years serving as its Programme Manager in 1997. He had served at the Myanmar Medical Association as academic secretary for almost ten years starting from 1987. He is a member of the Myanmar Medical Council and as well as the Myanmar Academy of Medical Science. He was elected as the President of the Myanmar Medical Association in January 2014.